If you are looking for a great car, the Jeep Wagoneer will come in handy. It is one of the top-selling vehicles of the Jeep. It is the vehicle to consider if you want a luxurious ride, and at the same time, a well-performing vehicle. Sisbarro Superstore in Deming, NM finds the Wagoneer an attractive Jeep SUV since it comes with various great attributes. They include:
Great Value and Price Competitive
With the Jeep Wagoneer, you will get a pinnacle of great engineering. Its great value indeed fits the unparalleled craftsmanship and inspiring styling, thus, making it to be price competitive in the SUV lineup.
High Quality
Since it is a vehicle of high quality, it also boasts several high-quality amenities. Below are some of the discussed amenities of the Wagoneer. They include:
Interior
Its spacious cabin makes it a family car to consider. It also boasts various high-quality materials, such as soft-touch and padded leather surfaces. It is a three-row SUV able to accommodate a maximum of eight passengers. Each row has sufficient legroom and headroom for more comfort, especially when taking long-distance trips. Whichever row you sit in, you will get excellent outward visibility. You can opt for the cold-warm weather package for a more delightful ride, which adds heated and cooled seats plus a heated steering wheel.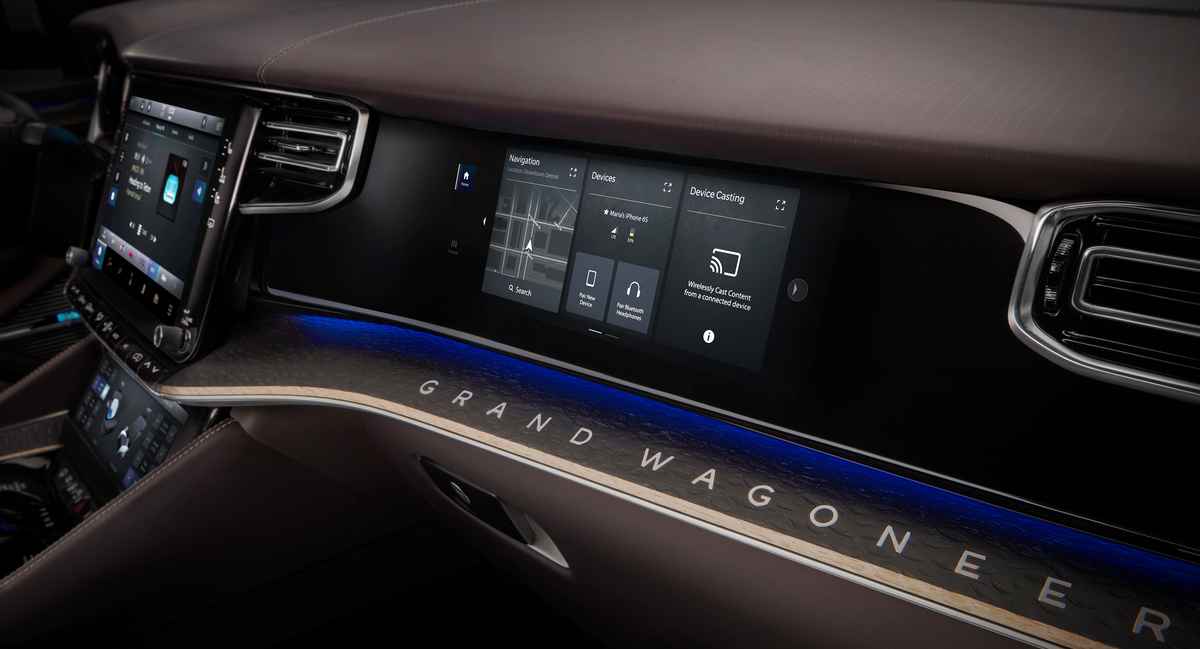 Exterior
On the exterior part, the Wagoneer displays a vivid look due to its high-quality features. Upfront, this SUV boasts a seven-slat grille, which features some shutters that open and shut depending on the cooling required. On the sides, there are power-retractable steps. The lighting on the exterior is LED- both the brake lights and headlights. The Wagoneer sits on standard 20-inch wheels, but there are options of 21 and 22-inch wheels. The exterior colors are offered in three choices, sky blue, ember red, and rocky mountain green.
Technology
Filled with plenty of tech features, the Wagoneer will surely give you an engaging driving experience. It comes with a 10-inch center console that displays Bluetooth, Apple CarPlay, Wi-Fi hotspot, and Android Auto. Its voice recognition app is also standard, and it allows the driver to speak out commands when activated. Its wireless device charging pad enables you to charge your phone without plugging in. Instead, the tech uses magnetic fields to conduct energy from the charger to the battery. For more comfort for your passengers while cruising, you can opt for a rear-seat entertainment system, which comes with two 10-inch displays. Other tech features include remote start, automatic climate control, keyless entry, and much more.
Performance Features
Behind the grille of the Wagoneer, a V-8 engine pumps out 392 horsepower. The powertrain is accompanied by a hybrid system and an eight-speed automatic transmission. With this engine setup, the Wagoneer offers ample power at any place. This SUV is equipped with the necessary features such as air suspension, massive tires, and adequate ground clearance in rugged terrain.
The Wagoneer comes with some towing capabilities. It can tow a maximum of 10,000 pounds. Its towing capacity is rated to be the highest towing capacity of a large SUV.
Safety Amenities
The essential safety features that accompany the Wagoneer will surely give you a self-assured ride. The safety features are:
Adaptive cruise control
Parking sensors
Lane keep alert
Forward Collision warning
Rear seat alert
Airbag occupancy sensor
Visit Sisbarro Superstore Today!
Sisbarro Superstore in Deming, NM offers nothing but the best when it comes to great cars like the 2022 Jeep Wagoneer. Create time and pass by our dealership to witness the 2022 Jeep Wagoneer. Our team of experts is always available to attend to you. We also offer test drives for customers from Silver City, NM and beyond.