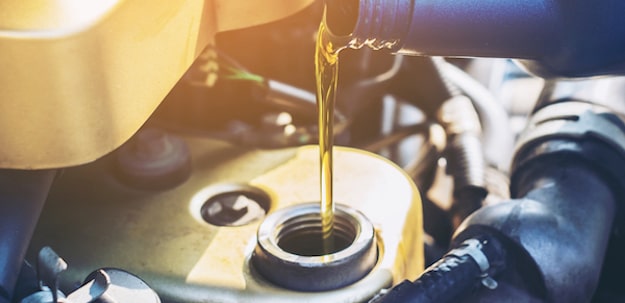 You probably have some idea of what oil does and that you should change it every so often, but how important is it really?
Very. If you don't change your vehicle's oil when necessary, you could do serious damage to your engine, hurting both its performance and your wallet.
Our Chrysler Jeep Dodge RAM service center near Silver City is here to tell you how important it is to change your oil.
Motor Oil Purpose and Benefits for Your Jeep
Many moving parts constitute an engine. As these parts move, they produce friction and create heat. Too much heat over enough time causes the engine to warp and wear down.
This is where oil comes in. Acting as a lubricant, oil reduces friction, decreases heat, and makes engine function possible over long periods. With less friction impeding the moving components, the engine doesn't need to work as hard, boosting your fuel economy.
As the oil moves through an engine, it keeps it clean by picking up dirt and other debris, which would otherwise cause damage if left unattended. After a while, the oil gets too contaminated to be effective, so it needs to be replaced.
In the long term, staying on top of your vehicle's oil change schedule will help maintain its performance.
Even if getting your vehicle's oil change comes with a charge, it pays to get it changed. Neglecting this necessary maintenance for long enough could result in needing repairs costing thousands of dollars.
When Should You Change The Oil In Your Jeep?
By paying attention to the right indicators, knowing when to change your oil is easy.
Your Jeep comes equipped with lights that tell you some form of maintenance, including oil changes, are necessary.
Alternatively, you could pop the hood and check your oil manually by reading the dipstick in your engine. To do this, take the dipstick out, wipe it clean, fully return it to the engine, and pull it out again. If the oil line resides below the indicated marks, then you know you need an oil change.
Where Can I Get An Oil Change for My Jeep Near Me?
If you're passing through Deming, bring your Chrysler, Dodge, Jeep, or RAM vehicle into our service center for a quick oil change. Our certified technicians are trained to know exactly which oil your engine needs to keep your vehicle running at peak performance. While you're here, we'll even give your vehicle a complete inspection to ensure your vehicle is in tip-top shape, free of charge.
Don't ignore that maintenance light in your Jeep. Check out our service specials and schedule an appointment today.