When we compared the new 2022 Ram 1500 to the Ford F-150 pickup truck, the 2022 RAM 1500 rises to the top-with its rugged build and refined design, making it instrumental in handling every type of job. Despite Ford's efforts to outperform, Sisbarro Superstore in Deming, NM, compared the Ram 1500 to the Ford F-150, both similar in size at about 242-inches in total length with a cargo volume of about 62 cubic feet. After comparing these two pickup trucks, it's clear the Ram 1500 is more economical and includes far more features as standard, beating the F-150 in virtually every way.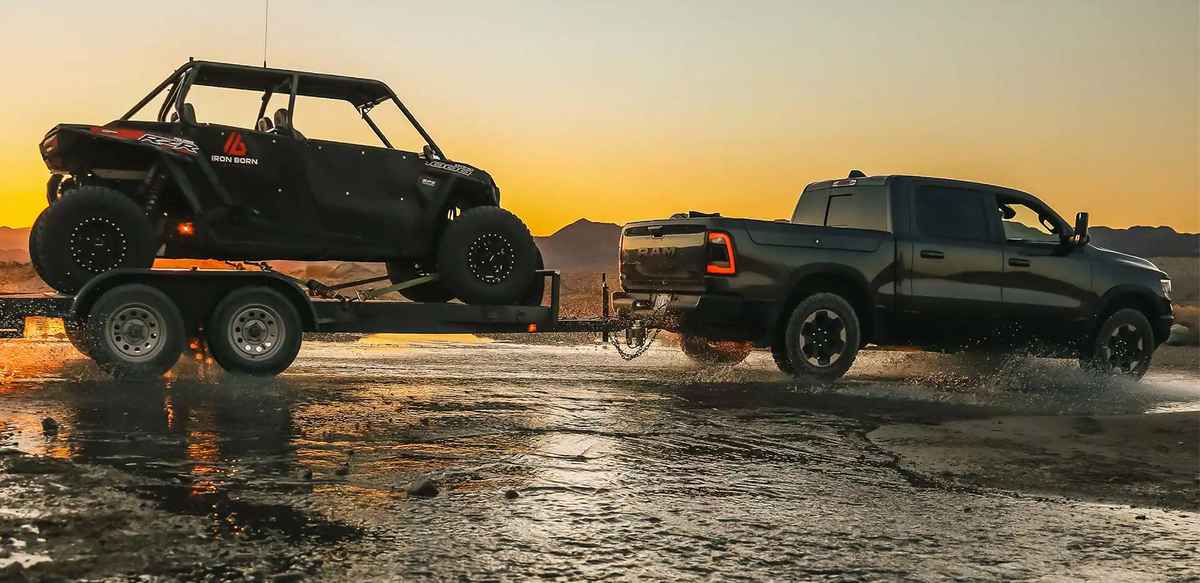 Fuel Economy
Routine maintenance costs about the same for both pickups, but you'll enjoy greater fuel efficiency with the new Ram 1500. Its 23-gallon fuel tank and combined 22 mpg fuel efficiency going a distance of 506-miles on a full tank, compared to the Ford F-150 truck's 28-gallon fuel tank.
In the fuel economy department, the F-150 falls behind with its combined 17 mpg fuel economy and 476-mile range, 30-miles less than the Ram 1500, which costs you more money every time you refill the gas tank.
Performance and Hauling Power
Under the hood, the Ram 1500 truck gets power from engines that produce as much as 702 horsepower and 650 pound-feet of torque compared to the Ford truck. The F-150 powertrains create a maximum of 450 horsepower and 510 pound-feet of torque, way below the capabilities of the Ram 1500. The Ford F-150 has a max tow rating o 14,000 pounds compared to a 12,750-pound Ram 1500 tow rating, but the Ford doesn't come close to delivering the same smooth and quiet ride as the Ram 1500 truck.
Interior and Cargo
Both trucks have plenty of room for six passengers with the crew-cab style configuration, yet the Ram 1500 is standard-equipped with a second-row bench seat. The Ram 1500 and F-150 both have similar-sized cargo beds.
The Ram perfectly avoids the purely work-focused interior, featuring seats that are as comfortable as they are rugged. Both models include ample personal storage throughout the cabin and cargo bed. However, the Ford F-150 has hidden under-the-seat storage compartments and a Driver-Facing Camera for added security.
Technology Features
The Ram 1500 comes equipped with numerous features the driver can control using voice commands or a virtual display. Multiple USB ports and cruise control are standard in every Ram 1500 truck trim but only included as standard equipment with higher trims of the F-150. Both models feature Bluetooth connectivity with Apple CarPlay and Android Auto integration.
Still, drivers in a Ram 1500 can stream their favorite tunes and make or receive calls managed through a 12-inch infotainment display featuring a Uconnect 5C touchscreen and a navigation system with split-screen capabilities no matter how far you drive or the density of the traffic. The F-150 has a smaller eight-inch Capacitive touchscreen and only offers navigation and audio as optional features.
Driver-Assist and Safety
Safety features are similar between the RAM 1500 and Ford F-150, including airbags on all sides for all passengers, stability control, and traction control. Optional features in the F-150 only available in the Ram 1500 include standard-equipped lane departure warnings, automatic emergency braking assist, and lane-keeping assist.
Test Drive a New 2022 Ram 1500 Truck at Sisbarro Superstore Today
Sisbarro Superstore has an impressive inventory you can view on our website or in-person to learn why the 2021 RAM 1500 outshines the Ford F-150 near Las Cruces, NM. Our knowledgeable sales team is ready to answer your questions and looks forward to helping you when you visit our dealership.